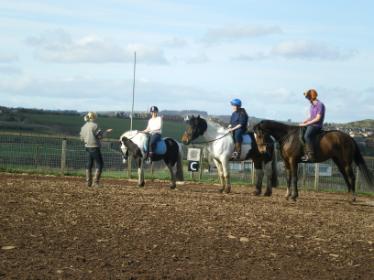 " How to ride a horse:
Step One - Mount the horse.
Step Two - Stay mounted "
(Notes 'n' Quotes)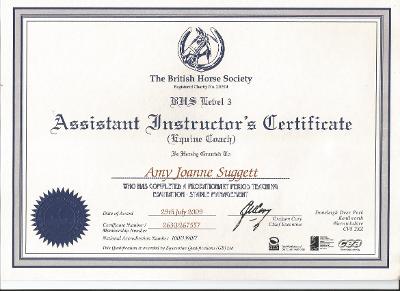 Riding Instruction
Delivered by a Fully Qualified Instructor, lessons are conducted on a Freelance or In House basis.
Offering;
Private lessons for a more intense experience.

Group lessons to enjoy the experience with a friend or just learning together.

Lunge lessons to allow you to work on your own improvements.
Freelance - Your instructor will travel to your venue and deliver instruction on your own animal. Catering for lessons ranging from Novice to Advanced level, both children & adults. Services available in all disciplines.
In House - We have access to Riding School Horses/Ponies at The Grange Stud in Ugthorpe. These Horses/Ponies would be borrowed for your lesson from Th Grange Stud. Catering for lessons ranging from Novice to Advanced level, both children & adults ages 4 years and upwards. Services available in all disciplines.
Arena Hire - The Grange Stud offers their arena to hire for a small fee.
Vouchers are available and a great idea to send as a present for that special occasion.
contact-us.php for more details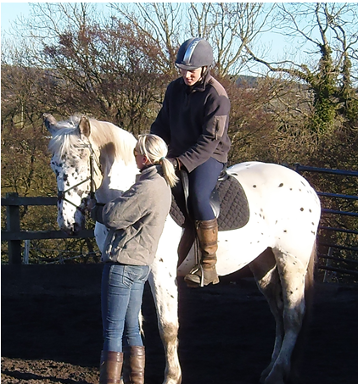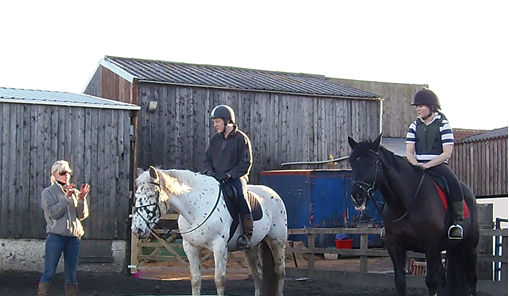 Clinics
Clinics are a fabulous opportunity to interact with others and take part in something new and exciting.
Different types of clinics are offered such as - Dressage, Show Jumping, X-Country and much much more!
Regular Clinics are held at your local venues.
British Horse Society Exam Training
We can cater for the career orientated individual, helping you to gain that all important exam certificate. Working towards BHS Stages 1, 2, 3 Riding & Care, Riding and Road Safety and PTT Training.
SVQ/NVQ Assessing
Contact us for more details.
Talks & General Advice
Occasional talks will be held in your local area relating to general equitation; great to attend for fun or just general advice. Click the link below for details and dates. All talks must be booked and paid for in advance prior to the event date.
Please Contact us for bookings and more details on the above services.
Theory Courses
We can offer home based courses such as the British Horse Society Horse Owners Certificate (BHSHOC) which can give a good grounding to potential equestrian enthusiasts. Excellent course for first time horse owners or just if you want to further your equestrian knowledge. Please contact us for more details.
BHSHOC Syllabus covers the following:
Level 1 - Types, colours & markings, stable management, care & maintenance, stable routine, tack, grooming, care of the foot, horse health, watering & feeding, horse buying, preparing to ride.

Level 2 - Shoeing, common injuries, stabled horse, grass land management, care of saddlery, insurance, bedding, highway code, country code.

Level 3 - Treatment, roughing off, clipping, trimming, plaiting, horse transport, competition, fittening, stable construction, horse clothing & bandaging, forage, costs.

Level 4 - Main systems in the horse, grasses, vitamins/minerals, teeth, remedial shoeing, sick nursing, fitting tack, stable vices, general knowledge of the BHS, accident & legislation.




!!! Course Now Available !!!
Please contact us for more details.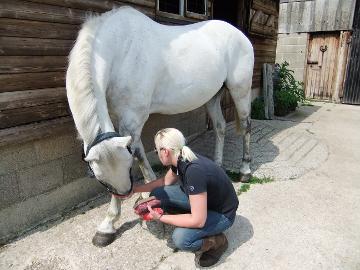 " Grooming: the process by which the dirt on the horse is transferred to the groom "
(Notes 'n' Quotes)
!!!! Take a Look at Our Great Prices & Offers Available Below !!!!
Lesson Type & Duration
Freelance Private 45 min
In House Private 45 min
Freelance Semi Private (2 ppl) 1 hour
In House Semi Private (2 ppl) 1 hour
Freelance Group 1 hour
In House Group 1 hour
Freelance Lunge 30 min
In House Lunge 30 min
Pony Club Member Discount (Freelance Service Only)
Price
£25
£30
£20
£25
£10
£15
£20
£25
£5
All lessons are subject to travel costs. A charge of £1 per mile out of the 10 mile radius from our home base.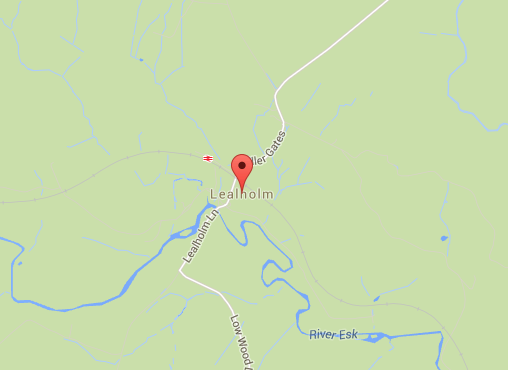 Tip of The Month
Is your horse heavy in your hand??
The horses response from your hand down the rein to his mouth should be a light clear and concise one.


Try riding on the flat holding your reins upside down (the riders thumb pointing towards the horses mouth not the buckle on the reins).
This action will make the riders hand become light, and in turn should encourage the horse to lighten his head carriage.
Happy Riding Guys!!!!!!!